The Watch of Flowing Time is an alchemical power item that can speed up (alchemical) machines around you at a set rate and slow down mobs at the same time. In addition to that, it grants you the ability to speed up or to reverse the speed of the sun and the moon. (Note: The speed change of the sun and moon depends on the charge of the watch.)
Crafting
[
]
Usage
[
]
The Watch of Flowing Time works passively from any space in your hot bar, but not from within your inventory.
While holding the Watch of Flowing Time, press the "V" key to charge it, hold sneak (the default is shift key) and press "V" to lower the charge. Acivating it with the "G" key consumes EMC and will speed up machines at a set rate near you. It speeds up Machines and slows mobs near you at the same rate. Level 1: 10% Level 2: 20% Level 3: 30%
The Watch can also affect the time of day. Pressing the "C" key will cause the sun and moon to move faster in their normal directions, pressing it again causes them to move in the opposite direction, and pressing it a third time turns the ability off. This is a free ability, and requires nothing to use. However, this function interferes with the normal operation of anything synchronized with the world time, such as RedPower Timers and Sequencers. Minecarts also function erratically when the watch is in your hotbar.
Placing a Watch of Flowing Time on a Pedestal and activating it gives a speed increase of 7% to all machines within 4 blocks. This Effect stacks to a Maximum of 10x speed.
EMC Composition
[
]
4 x 139,264 (Dark Matter) + 2 x 64 (Obsidian) + 2 x 1,536 (Glowstone) + 1 x 8,256 (Clock) = 568,512 EMC each.
Video Tutorial
[
]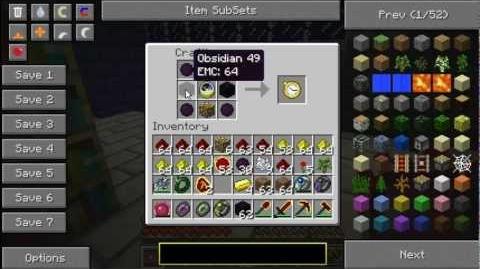 ☀
Equivalent Exchange
 

Functional Blocks

Alchemic Machinery

Storage

Organized Destruction

Other
 

Resources

Blocks

Matter

Covalence Dust

Fuel Items

EMC Storage

Other
 

Tools & Weapons

Dark Matter

Red Matter
 

Armor

Dark Matter Armor

Red Matter Armor

Gem Armor