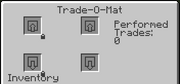 This machine really only makes sense in Multiplayer.
The slot in the top left corner sets the price, the bottom left slot sets the quantity sold for that price. As an example, one might place 40 Iron Ingots in the top left slot and one Diamond in the lower left. Any player could then place 40 iron in the top right slot to recieve one diamond at the lower right.
The Trade-O-Mat will only function if it is placed next to a chest, where it can store the items placed in the top right slot and draw items from to give to customers. In the above example, the Trade-O-Mat will store iron in the chest and draw diamonds from it whenever a player makes a trade.
There is an issue where an Energy Condenser cannot be used adjacent to the Trade-O-Mat in place of a chest to regenerate the material being sold (in the above example, the diamonds), because the Trade-O-Mat always draws from the target slot in the condenser. One can get around this by using pipes from Redpower or BuildCraft to pump the material from the top slot (iron) into the condenser, which converts it back into the material being sold (diamonds), and another set of pipes to pump that material back into the chest beside the Trade-O-Mat.
Industrial Craft
 

Energy and Wiring

EU Storage Blocks

EU Storage Items

Transformers
 

Nuclear Reactor Components

Cooling

Radioactive
 

Tools

Mundane

Powered

Transmitters

Utility