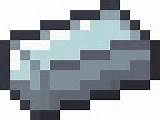 Refined Iron
Name
Refined Iron
Type
Metals
Physics
No
Transparency
None
Luminance
None
Blast Resistance
None
Renewable
No
Stackable
Yes (64}
Mod Included
Industrial Craft

Refined Iron is obtained by smelting an Iron Ingot.
This material is used in most IC² recipes, most notably the Machine Block. It is also used to make Electronic Circuits which are used in making most machines. Refining Iron gives you the "Better than Iron" achievement.
Refined Iron is also used to make HV Cables.
Refined Iron can be macerated back into Iron Dust and then smelted into regular Iron.
Industrial Craft
 

Energy and Wiring

EU Storage Blocks

EU Storage Items

Transformers
 

Machines

Components

Gatherers

Generators

Processors

Utility

Advanced
 

Nuclear Reactor Components

Cooling

Radioactive
 

Tools

Mundane

Powered

Transmitters

Utility