Try to have a general description of whatever you are writing the article about here.
Put more details in if you know about them.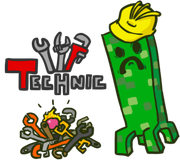 Another section
Edit
If the information is a lot and can be split into smaller groups, use the dropdown box at the top of the editer and choose a heading font, make it relevant and carry on.
Crafting Grids
Edit
For a guide on making crafting grids, go here.