A Public Service Announcement
The Forestry mod has been removed from recent Technic builds because its creator does not wish for it to be included in the pack. See this blog post for detailed reasons. It may return in future versions, and may be added manually.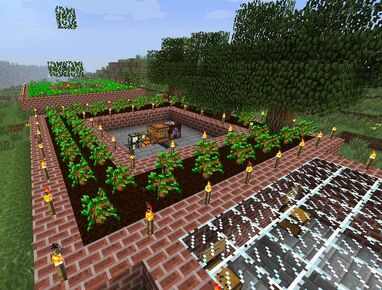 Forestry is a mod by SirSengir that allows for the full automation of all kinds of farms as well as many other useful features and machines. These farms include a tree farm, a Rubber Tree farm, a wheat farm, a mushroom farm, and many more. It is also integrated with BuildCraft and IndustrialCraft. Bees, trees, and happy things!
Farms and Plantations
[
]
Tree Farm
Wheat Farm
[
]
Pumpkin/Melon Farm
[
]
Peat Farm
[
]
Mushroom Farm
[
]
Cacti Farm
[
]
Sugarcane Farm
[
]
Production Lines
[
]
Water Collection
[
]
Fuel Production
[
]
Beekeeping
[
]
Tools
[
]
Armor
[
]
Storage
[
]
Products
[
]
Engines
[
]
Tools
[
]
Storage
[
]
Other
[
]
Crafting Items
[
]
Machines
[
]
Ore
[
]
Fuels
[
]
Food
[
]
Farm Related Items
[
]
Miscellaneous
[
]