| | |
| --- | --- |
| | Engines contains information about the BuildCraft mod. |
This is the article about the BuildCraft Engines. For the Engine from Steve's carts, go here.
Engines are machines used for powering all the BuildCraft machines. One major use is powering Wooden Transport Pipes, making them essential for piping items to different locations. There are 4 different types of engines, a Redstone Engine, a Steam Engine, and a Combustion Engine. Previous versions of Technic also included an Electrical Engine as part of the Forestry mod.
Energy created from Engines can be tranported by Conductive Pipes .
Engine Types
Edit
Redstone Engines are the cheapest, although least powerful, engines the player can craft. Unlike other engines, this type of engine has no risk of blowing up unless not attached to something requiring power. They are powered by solely redstone signal. This can be provided by Redstone Torches, Levers, and any other redstone source. They work best when in their orange and red-flashing stages. It takes time for a Redstone Engine to get up to full speed. This can take up to 10 minutes. They have a maximum power of .05 MJ/T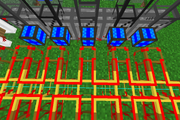 Steam Engines are a more costly but more powerful alternative to Redstone Engines. They take more resources to craft, and in addition to redstone signal, require fuel to run. Unlike Redstone Engines, this type of Engine can explode if too much energy is built up, usually by providing too much fuel. They have a maximum power of 1 MJ/T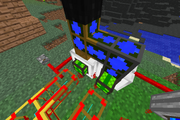 Combustion Engines are a further more costly engine to craft, although the most powerful engine provided by BuildCraft. This engine requires either Oil, Fuel, or Lava as a power source as well as redstone signal. If this engine is without water to cool it for longer than 5 seconds, it is at risk of exploding. The player may pipe in oil, fuel, lava, and water directly. They have a maximum power of 1MJ/T on lava, 2MJ/T on oil, and 5MJ/T on Fuel. 
Electric Engines
Edit
In Technic 7.2.6, there are four electric engines from the Transformers mod. There is also a new HV wooden conductive pipe to transfer the extra power. You can connect to your machines with the old golden conductive pipe as usual.
Slow Electric Engine
Edit
Produces 1 MJ/t, default uses 2.5 EU/t - equivalent to a Steam Engine. Accepts up to 32 EU/t before exploding.
Regular Electric Engine
Edit
Produces 5 MJ/t, default uses 12.5 EU/t - equivalent to a Combustion Engine burning fuel. Accepts up to 128 EU/t before exploding.
Fast Electric Engine
Edit
Produces 10 MJ/t, default uses 25 EU/t - equivalent to 2 combustion engines burning fuel, the exact amount a refinery/quarry/pump needs to run at max speed. Accepts up to 512 EU/t before exploding.
Adjustable Electric Engine
Edit
This engine is adjustable, you can adjust the amount of MJ/t it will produce and thus the EU/t it will use. Accepts up to 2048 EU/t before exploding. To set the amount it will produce, it has a nifty GUI. Note that it's not able to produce more BC energy than the equivalent of 2048 EU/t in BC energy rounded down, with a maximum of 1000. (2048 * 2 / 5 = 819.2). So it produces a maximum of 2048 EU/t .
Previous Versions
Edit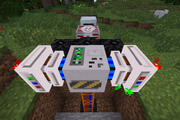 Note: With the removal of Forestry starting in Technic 7, the Electrical Engine is no longer part of the pac
Electrical Engines are the most costly engine to produce but also the easiest to run. They never explode and reach full speed almost immediately. They require EU to be powered and a redstone signal to keep them activated. EU can be transported to it via cables from a power source, such as a Generator, BatBox, MFE Unit, MFS Unit, and the such. They produce a standard output of 2MJ/T for 6EU/T, but can be upgraded using circuit boards and electron tubes (somehow)
BuildCraft
 

Pipes

Basic

Waterproof

Conductive
 

Automation

Engines

Mining

Refining

Building

Other
 

Advanced Logistics Control

Crafting Equipment

Chipsets

Pipe Wires

Gates
 

Resources

Crafting Components

Fuels